IT strategy
a.s.r.'s IT strategy enables the business units to execute their strategies, in terms of both new business opportunities and operational excellence. IT is a vital element, for example in recent business initiatives such as 'Ik denk vooruit' and 'a.s.r. Vitality'. Efficiency gains are expected from investments to replace platforms for Individual Disability and Pensions. To help the business in the application of new technology, a new programme 'IT course for managers and influencers' was developed in-house and will be rolled out to improve IT decision-making capabilities.
The technology is in place to build robust solutions. a.s.r. has invested in cloud platform technology, master data management tooling, CRM and omni-channel software, and a low code development platform. To boost the adoption rate, central platform teams have been set up for data and AI, robotics and low code. A strong central architecture team ensures that all IT initiatives are properly aligned.
A central data office was set up in 2022 to better align all data initiatives and encourage the responsible application of AI technology. The initial focus was on governance and data quality; in 2023 the focus will shift to new applications of data, within the boundaries of the Ethical Framework for data-driven applications by insurers of the Dutch Association of Insurers.
Focus on IT security
a.s.r. continues cooperation in i-CERT, a joint insurers' initiative for the timely identification of cyber security threats. The ethical hacking programme was extended with a bug bounty programme that encourages ethical hackers to continuously test cyber resilience. In 2022, a.s.r. also continued with its cyber security awareness initiatives to educate all employees on cyber risks, together with phishing and social engineering campaigns, to ensure that they remain constantly aware of the risks and to stimulate safe behaviour. The issue of cyber security is permanently on the EB and SB agenda. There were no significant cyber security incidents on a.s.r. systems in 2022.
a.s.r. continues to invest in state-of-the-art protection, detection and response staff and tools. IT risk management was strengthened with the establishment of a central IT Risk Competence Centre that helps all business units roll out IT risk standards and best practices. a.s.r. sets high standards for control of IT risks. In recent years, a.s.r. has focused on rationalising and replacing outdated back office systems. The consolidation of the back office systems of Life and P&C has now been completed. a.s.r. has thus strengthened the IT landscape, reduced costs and increased flexibility in these domains. a.s.r. received an ISAE 3000 type II statement for the service commission of the central IT department to the various business segments in 2020 and 2021. KPMG issued an ISAE statement for 2022 for the central IT Infrastructure services.
The organisation is increasingly adopting the agile way of working based on the Scaled Agile Framework (SAFe). As well as being a technical choice, agile transformation impacts the organisation with new roles and calls for different skills from traditional IT development. In a challenging labour market for IT professionals, a.s.r. has established a strong employer brand and is successful in fulfilling critical vacancies. The a.s.r. IT traineeship attracts large numbers of applicants. A third group of five highly qualified IT trainees joined in January 2023.
Digitalisation
Digital service commission is becoming increasingly important for a.s.r. In 2020, a.s.r. launched the Digital Agenda, a digital strategy aimed at substantially improving the customer experience. Multidisciplinary teams are working on the development of new digital solutions with the aim of improving customer satisfaction and better service commission for advisors. Digitalisation and automation drives efficiency and improves the customer experience. The Digital Agenda has four main focus points.
Main focus points Digital Agenda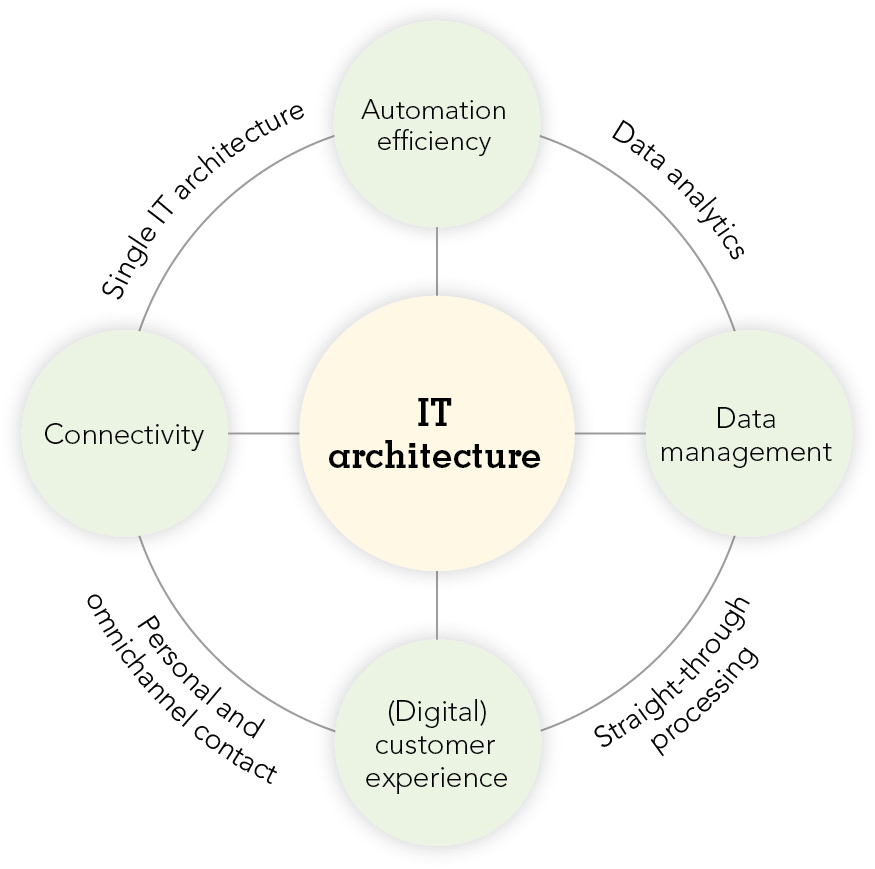 Digital customer accounts
51%
Digital customer accounts
51%
Digital customer activation and continuous improvement of the digital user experience of secure customer portals are an important aspect in improving a.s.r.'s customer service. By the end of 2022, 51% of all a.s.r. customers had created a digital account and agreed to receive policy information digitally. A target originally set for 90% by the end of 2023 turned out to be too ambitious. The level of digitalisation was examined in a number of sectors, including insurance. a.s.r.'s retail customers were also divided into age categories, since levels of digitalisation depend partly on age. The revised target is to achieve 70% digitalisation by the end of 2024. The further development of customer portals is a key part of the digital strategy. The 'Ik denk vooruit' platform which was launched in 2021 provides customers with an insight into their future income and enables them to open investment accounts.
The programme intends to save costs for both a.s.r. and advisors. a.s.r. also aims to reduce its ecological footprint by limiting the use of paper, and a target has been set to reduce paper use (pages printed) by 90% in 2023 compared to 2020 (23.5 million pages printed). In 2022, a.s.r. achieved a reduction of 30%.