As a real estate investor, a.s.r. recognises its substantial responsibility for contributing towards liveable and sustainable buildings, towns, cities and communities. By investing in appropriate and sustainable real estate, a.s.r. aims for a positive impact on the built-up environment, for present and future generations. a.s.r. makes targeted impact investments, accelerates the energy transition by generating renewable energy and is working towards a Paris-proof portfolio in 2045.
Sustainable investing – GRESB benchmark
The Real estate sector funds were assessed for their sustainability performance by the Global Real Estate Sustainability Benchmark (GRESB) in 2021. The ASR Dutch Core Residential Fund (ASR DCRF), the ASR Dutch Prime Retail Fund (ASR DPRF), and the ASR Dutch Mobility Office Fund (ASR DMOF) were each awarded the maximum score of five stars, which places them among the top 20% best performing funds. The ASR Dutch Science Park Fund (DSPF) was first in its peer group.
Scores Global Real Estate Sustainability Benchmark (GRESB)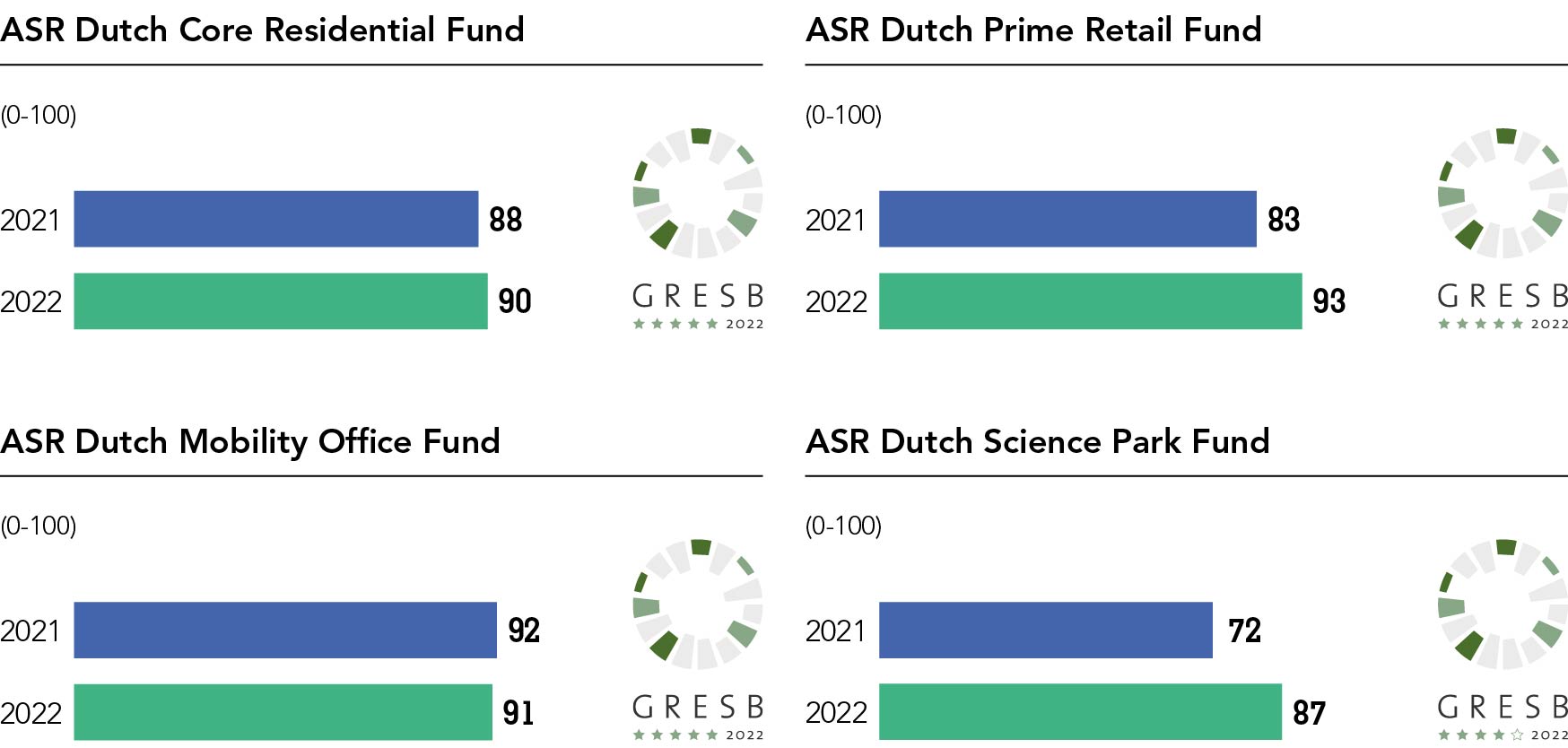 Rewarding sustainable farming
To help safeguard the continuation of farming and challenge climate change and the loss of biodiversity, a.s.r. introduced a reward system for its farmers who operate sustainably. Under certain conditions, new and current lessees that comply with certain sustainability requirements can be awarded discounts of 5% - 10% on the ground rent that they pay for the lease of the land. In 2022, 27 new green lease contracts were concluded, representing 50% (697 of 1,396 hectares) from the new contracts. The total number of green lease contracts is 143.
Renewable energy
During 2022, a.s.r. acquired three additional wind farms in Amsterdam, Almere and Eemshaven, and solar park Pesse in Hoogeveen. As a result, a.s.r. is the owner of 48 wind farm turbines and one solar panel farm in Pesse with 60.000 solar panels, which have a combined capacity of 205 megawatt, comparable to the power supply of 221,000 households per year. In this way, a.s.r. contributes towards the energy transition and a sustainable living environment.
In 2022, a.s.r. installed 5,479 solar panels on roofs of own real estate objects, bringing the current total up to 20,605.
Monitor and adapt to climate change
On the basis of four climate risks (heat, drought, flooding and extreme rainfall), Climate Adaptation Services set up the Climate Effects Atlas. This makes the climate risks transparent in an accessible way and clearly shows how these risks could impact on the environment, now and in 2050. It is necessary to anticipate climate change, both for the creation of a more sustainable living environment and for retaining the value of the real estate portfolios.
In the Geographical Information System (GIS), a.s.r. has set up a dashboard in which the impact of climate risks can be made transparent at the portfolio level. This tool includes several climate risks, over which the locations of properties are plotted. With this, the risk per building is determined. The insights obtained are used in procurement of new properties and the annual hold/sell analysis. In 2022, a major update was performed in the dashboard, providing new insights.
Paris-proof roadmaps
a.s.r. committed to a GHG neutral portfolio in 2045 and decarbonises the portfolio to attain this ambition. To chart the path towards this ambition, a Paris-proof roadmap was drawn up in 2021. In 2022, the roadmap was upgraded to become a highly visual and online platform. This has led to improved insights at both portfolio and individual asset level, allowing a.s.r. to increase the focus on the 'worst' performing buildings and leading to a cost-efficient reduction path.
Based on current data and the planned reduction paths, no assets are expected to be stranded. This means a.s.r. is on target to realise a Paris-proof portfolio in 2045. In the coming years a.s.r. will continue to develop the Paris-proof roadmap with consumption data, lessons from projects and evolving insights.
Renewable energy
Solar park
In 2022, a.s.r. acquired the newly-realised solar park in Pesse. Following acquisitions of wind farms, this is the first solar park owned by a.s.r. ​With more than 60,000 panels, the solar panel park has a capacity of 32.6 MW and provides for the power requirements of approximately 11,500 households. The park lies on 31.2 hectares of land which was made available by farmers. Of this, 17.3 hectares are leased from the ASR Dutch Farmland Fund. The area around the solar panel park will be enriched with two pools with ecological banks and plantations that partly hide the panels from view and contribute towards biodiversity. 
Wind farms
In 2022, a.s.r. acquired the Nieuwe Hemweg wind farm in the Amsterdam port area. This wind farm, which was completed last year, is the third wind farm that a.s.r. has acquired. ​The Nieuwe Hemweg wind farm consists of six turbines with a joint capacity of 13.2 MW. This is equivalent to the annual energy consumption of approximately 10,000 households. Furthermore, a.s.r. has acquired wind farm Strekdammen. The wind farm, which has been in operation since mid-2022, consists of two wind turbines at the breakwaters in Eemshaven. The two wind turbines have a total combined capacity of 11 MW. This is equivalent to the energy consumption of about 15,500 households. It is the fourth wind farm acquired by a.s.r.
The acquisitions of the solar park and wind farms form part of a.s.r.'s ambition to realise impact investments of €4.5 billion by the end of 2024.
Impact investments
The Global Impact Investing Network defines impact investments as: Investments made into companies, organisations and funds with the intention to generate positive, measurable social and environmental impact alongside a financial return. This definition is used by a.s.r. to calculate the figure of impact investments for real estate activities.
In 2022, a.s.r. has the following real estate impact themes: