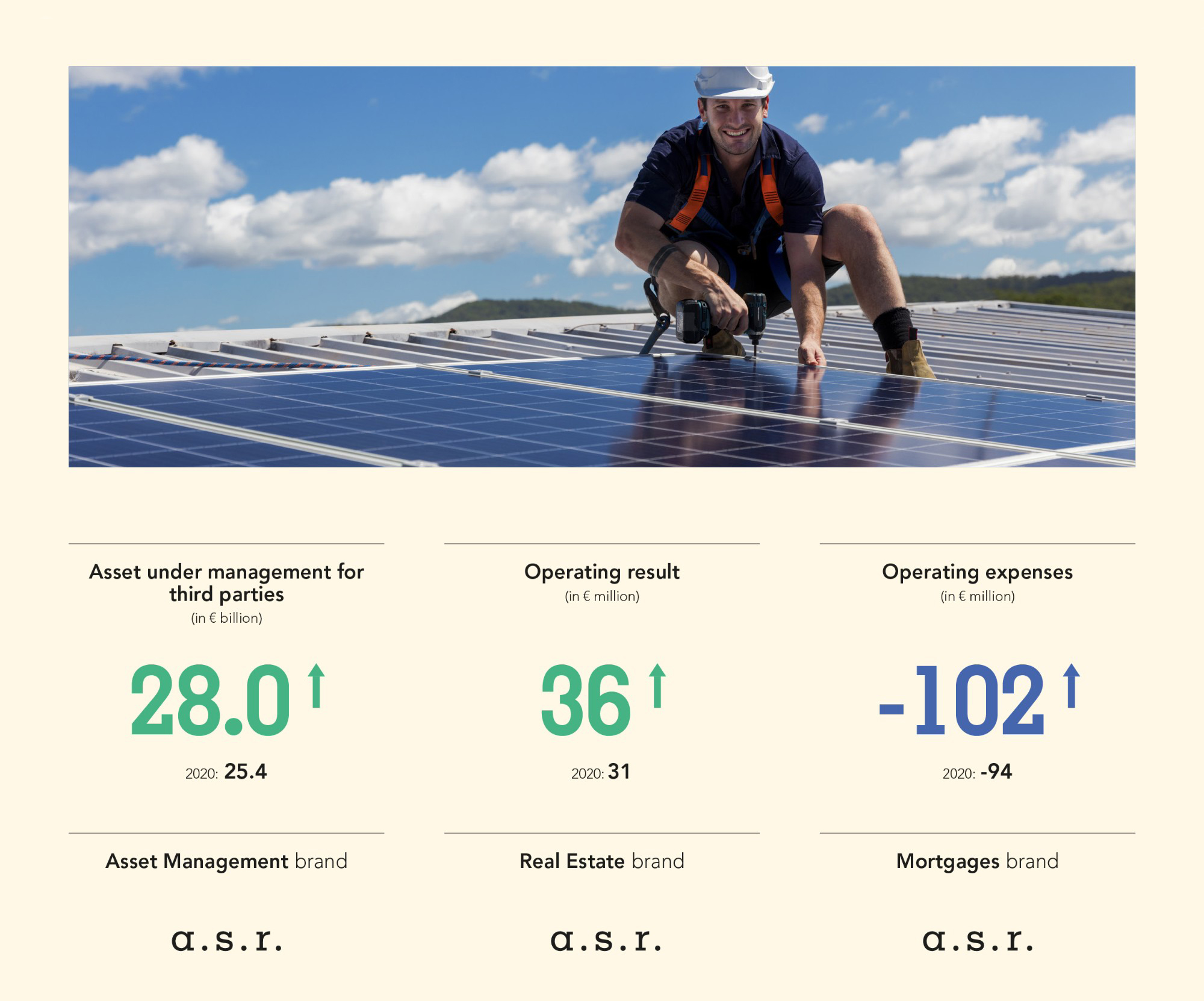 The Asset Management segment involves all activities related to asset management, including investment property management. These activities include ASR Vermogensbeheer N.V., ASR Financieringen B.V., ASR Real Estate B.V., ASR Hypotheken B.V. and ASR Admin N.V. (formerly a.s.r. bank).
Financial performance
Assets under management
Total AuM for third parties increased by € 3.7 billion to € 28.0 billion (2020: € 24.3 billion), which was driven by a continued growth of net inflows into the mortgage funds, inflows into the mix funds underlying the DC products and positive revaluations of the unit linked portfolio. In addition, the negative revaluations in the ASR Dutch Prime Retail Fund were more than offset by the inflow and positive revaluations in the ASR Dutch Core Residential Fund (ASR DCRF), which on balance increased real estate third party AuM.
Operating result
The operating result of Asset Management increased by 14.2% (€ 4 million) to € 36 million (2020: € 31 million) due to higher fee income resulting from the increased third-party AuM, partly offset by lower fees from the retail real estate portfolio.
Mortgage origination amounted to € 6.0 billion, € 2.1 billion of which was allocated to the ASR Mortgage Fund.
Furthermore, € 0.9 billion and € 0.6 billion of the mortgage origination was allocated to the ASR Separate Account Mortgage Fund and external investors, respectively. Payment arrears of more than three months on the mortgage portfolio were already low, but improved even further by 1 bps to 2 bps (2020: 3 bps). Credit losses on mortgages increased by 0.19 bps to 0.26 bps (2020: 0.07 bps), mainly due to write-offs of irrecoverable debts.
Operating expenses
The operating expenses increased by € 7 million to € 102 million (2020: € 94 million), driven by top-line growth and higher personnel costs, partly due to the decision to insource the management of residential property.
The management cost ratio for a.s.r. mortgages improved by 1.9 bps to 7.8 bps (2020: 9.7 bps), mainly as a result of economies of scale.
Asset Management
ASR Vermogensbeheer N.V. (AVB) conducts all a.s.r.'s asset management activities, with the exception of direct real estate.
Market
The asset management market is consolidating rapidly, as a result of growing legislation and regulations, stricter supervision, international competition and the realisation of economies of scale. The number of independent Dutch asset managers has been shrinking for years, while a need for specific knowledge of the Dutch market remains. This provides opportunities for AVB, as a down to earth Dutch asset manager that is close to the market, personal and solution-oriented.
Products
AVB manages assets of € 78 billion, including € 28 billion for customers outside a.s.r. The product range includes corporate bonds, government bonds, equities and mortgages. In this way, AVB offers custom solutions with a sound return on investment. AVB primarily invests close to home, in countries and companies that comply with a.s.r.'s social and sustainability criteria. In this way, AVB shows that sustainability and financial returns can go together.
Strategy and achievements
In the long-term, companies that embed sustainability, quality and risk-spreading in their policies generate more economic and social value, at a lower risk. AVB's strategy is therefore based on this. AVB aims to generate sustainable returns for its stakeholders, now and in the future. For that reason, AVB seeks not only financial, but also social returns, through investments that are checked for environmental aspects and human rights, and by opting for impact investments, which are long-term investments. Attention does not, therefore, focus on cryptocurrencies, commodities or day trading. AVB may lose some short-terms returns as a result, but this is consistent with the focus. What counts is the long-term result. Furthermore, AVB is able to combine the investment profession with the Solvency II requirements, is cost-efficient and generates extra fee income from the successful Mortgage Fund, ESG funds and the WnP. AVB invests for its customers in the same way as it does for itself.
The historically very low interest rates placed investment returns under pressure. One of the ways to increase a.s.r.'s investment returns is to allocate more of the asset mix to illiquid investments. After all, insurers have a long investment horizon. They are consequently able to earn an illiquidity premium by investing more in, for example, mortgages, private loans and structured credits with little or no marketability.
Outlook for 2022
In 2022, AVB will continue to serve its clients through a combination of asset management solutions and individual asset categories, such as fixed income, equities and mortgages. As part of a.s.r.'s ESG strategy, the focus will be on impact investing and in order to generate a measurable favourable social or ecological impact in addition to financial return. a.s.r. will also continue its drive to increase the managed assets of external customers. The successful mortgage and ESG funds are priorities here.
Real Estate
a.s.r. has been investing in real estate for own account and on behalf of institutional investors for more than 125 years.
Market
2021 was marked by economic recovery. With the withdrawal of restrictions on contacts until December and the supporting government measures. Consumer and producer confidence recovered and the labour market tightened still further. In general, this led to positive yields in the real estate market. The rental properties market and national real estate showed solid returns. Retail property market valuations appeared to be stabilising and demand for offices and real estate at science parks in good locations was maintained. The continuing shortage of prime assets and low interest rates created positive pressure from real estate investors.
Real estate portfolio
(in
€

billion)
7.3
2020: 6.5
Real estate portfolio
(in
€

billion)
7.3
2020: 6.5
At year-end, the real estate portfolio totalled € 7.3 billion (2020: € 6.5 billion), divided into € 5.1 billion (2020: € 4.5 billion) on behalf of a.s.r. and € 2.2 billion (2020: € 2.0 billion) on behalf of institutional investors. The total inflow of new capital from institutional investors amounted to € 0.2 billion (2020: € 0.2 billion).
Products
Real Estate manages five non-listed real estate funds; ASR Dutch Prime Retail Fund, ASR Dutch Core Residential Fund, ASR Dutch Mobility Office Fund, ASR Dutch Science Park Fund and ASR Dutch Farmland Fund. These retail, residential, office, science park and rural real estate funds are open to institutional investors who are looking for stable capital growth. Real Estate also invests on behalf of customers in renewable energy sources such as wind and solar farms, international non-listed real estate funds and listed real estate equities.
Strategy and achievements
Real Estate's strategy is to create long-term value for investors. To this end, agreements have been made to generate returns at acceptable risk levels. In the longer term, it is important that Real Estate makes a substantial contribution to the (economic) targets of tenants and leaseholders. Real Estate also has a strong focus on quality, believing that quality retains its value. It therefore invests continuously in maintenance, good quality materials, the sustainability of buildings and sustainable land use.
Sustainability is an integral part of Real Estate's investment and management practice. In the coming years, the focus will lie on further reduction of carbon emissions.
As a real estate investor, a.s.r. recognises its substantial responsibility in contributing towards liveable and sustainable buildings, towns and cities and communities. By investing in appropriate and sustainable real estate, a.s.r. aims for a positive impact on the built-up environment, for present and future generations. Real Estate makes targeted impact investments, accelerates the energy transition by generating renewable energy and is working towards a Paris Proof portfolio in 2045. At the end of December 2021, Real Estate acquired a part of Prinses Ariane wind farm in the Wieringermeer. As a result, a.s.r. is the owner of 32 of the 82 turbines on the largest Dutch onshore wind farm. The 32 turbines have a combined capacity of 118 megawatt, which is comparable to the power supply of 114,000 households per year. Real Estate manages several potential locations for wind and solar farms. Together with various developers, projects are set up for the development of new wind and solar farms on a.s.r. land positions. In this way, a.s.r. contributes towards the energy transition and a sustainable living environment.
Real Estate has started several projects on the basis of the digital strategy programme. In 2021, a tenants' portal was delivered, at which residential tenant can view their data and documents and report changes digitally. Tenants can also submit requests for repairs via this portal and track the follow-up of their requests. This gives a boost to tenant satisfaction. A data hub has been implemented for the supply of ESG data, from which reports and dashboards are generated. Real Estate has also developed a new website with up-to-date security. The website offers visitors a clear structure and navigation and a great deal of informative content. See for more information www.asrrealestate.nl.
Outlook for 2022
Despite the uncertainties surrounding COVID-19 economic recovery will continue in 2022 and will keep investors interested in real estate in 2022 as a result of the low interest rate environment and current high inflation.
COVID-19 has led to rapid changes in human behaviour and demand for real estate has followed these developments. The supply and demand ratio for rural real estate and residential property remains strong. The current construction pace cannot keep up with the increasing housing shortage and with the growth of solar and wind farms, the pressure on land use is growing. Due to the increasing use of online shopping and the introduction of hybrid working, polarisation in the retail and office markets respectively is growing. The pressure on easily accessible and multifunctional locations with scale and sustainable assets aimed at convenience remains. As a niche market, science park real estate profits from the recognised (future) importance of life sciences and it benefits from persistent high occupancy rates as employee's on-site presence is often essential.
Mortgages
a.s.r. provides mortgage loan services for its own equity balance as well as for the different external investors and is active in the residential mortgage market. Mortgage loans are issued by ASR Levensverzekering N.V. Part of the mortgages were subsequently sold to investors.
Market
As a result of historically low interest rates, the mortgage market still has many customers refinancing existing mortgages. This development caused the market for further advances or refinancing to become larger in 2021 for the first time than the market for purchasing new homes. Low interest rates in combination with low housing supply have led to a sharp increase in house prices. Low supply and high prices make things difficult for first-time buyers. The number of housing starts trailed, the main causes being the nitrogen problem, employee shortages and shortages of raw materials.
Products
a.s.r. positions itself as a sustainable and innovative player on the mortgage market. In addition to the standard products (annuity, linear and interest-only), it offers the following specialised products:
WelThuis Startershypotheek: a product tailor-made for first-time buyers with a maximum term of 40 years.

DigiThuis hypotheek: a mortgage that uses source data, primarily intended for buyers refinancing existing mortgages.

Verduurzamingshypotheek: a tailor-made product for sustainable adjustments to residential dwellings.

WelThuis Levensrente hypotheek: A tailor-made product for senior citizens, with which they can also release equity.
Strategy and achievements
Mortgages are an attractive investment for a.s.r.'s own account as well as for external investors. The target for 2021 was therefore to grow the investments for a.s.r.'s own account, in the mortgage funds and via whole loan sales. This target was met, with a growth in mortgage production of 30% and a growth of the overall portfolio of almost 27%. This was achieved partly by the new Levensrente and DigiThuis products reaching maturity, targeted marketing campaigns and strengthening the partnership with the independent advisors. The Levensrente hypotheek was awarded the Golden Lotus by advisors for the most innovative mortgage product, with the DigiThuis taking second place. a.s.r. was also nominated for the Green Lotus award and won the Zilveren Spreekbuis award. a.s.r. continued to present itself to the market as a socially committed player with special attention for environmental issues. Hence a.s.r. offers all new customers an additional loan at a discounted rate for making sustainable improvements. All existing customers are sent an energy savings report on the improvement potential of their home.
With an NPS-c score of 43 in 2021 (2020: 40), Mortgages significantly improved its customer satisfaction.
NPS-c Mortgages
(-100 to +100)
Product development and digitisation
Mortgages introduced a new product line (DigiThuis) at the end of last year, with acceptance based entirely on source data. Further development of the DigiThuis mortgage took place in 2021. The Levensrente mortgage, also introduced at the end of 2020, is highly appreciated by advisors and customers and with the life-long interest payments, remains unique in the market.
Mortgages also made important improvements to the MijnHypotheek customer portal at which customers can make different changes to their loans themselves. If required, the customer can grant the advisor access to MijnHypotheek. More than 4 out of 5 of all a.s.r. customers make use of MijnHypotheek. The other customers still receive their correspondence by post. For new customers, use of the portal is mandatory.
Outlook for 2022
Further growth in the mortgage business is expected for 2022. The mortgage market appears to be cooling down a bit, but demand for mortgages to finance investments continues to increase. Further growth will result in improved cost efficiencies. a.s.r. is also focusing on existing customers by offering them the Verduurzamingshypotheek in an accessible manner. With new products and plans for further process improvement and digitisation, a.s.r. feels well-positioned for further expansion for own balance sheet and third parties.
Impact investing
asset management
a.s.r. focuses on increasing its positive impact. This is why a.s.r. invests in positive developments for people, the environment and the society. For example, by investing in Rubio Impact Ventures, an investor that supports companies with a sustainable business model. Such as DeWarmte, which converts household wastewater into usable new energy. Or SkinVision, which aims to save 250,000 lives in 10 years' time through Artificial Intelligence on a smartphone, allowing users to make an accurate and specific analysis of a possible melanoma. Or Microverse, which helps young people from emerging economies learn to develop software and brings them into contact with international jobs, regardless of their location, gender or background.
These are just three examples of investments Rubio makes in companies that have an impact on the climate, health or the financial self-reliance of people.