New customer
accounts in 2021
(in 1,000)
>150
New customer
accounts in 2021
(in 1,000)
>150
In recent years, a.s.r. focused on rationalising and replacing outdated back office systems. The consolidation of the back office systems of Life and Property & Casualty (P&C) has now been completed. a.s.r. has thereby stabilised the IT landscape, reduced costs and increased flexibility in those domains. a.s.r. is also investing in the consolidation of systems in the coming years, in particular in Disability and Pensions, and will accelerate robotisation to improve the efficiency of business processes. A low code platform (a modern software platform that is more efficient than traditional platforms by reducing code) will be deployed to increase productivity in software development in-house, as a supplement to purchased applications.
Digitalisation & automation
Digital service commission is becoming increasingly important for a.s.r. In 2020, a.s.r. started the implementation of the Digital Agenda, a digital strategy aimed at substantially improving the customer experience. Multidisciplinary teams are working on the development of new digital solutions with the aim to improve customer satisfaction and better service commission for advisors. Digitalisation and automation drives efficiency and increases the customer experience. The Digital Agenda has four main focal points.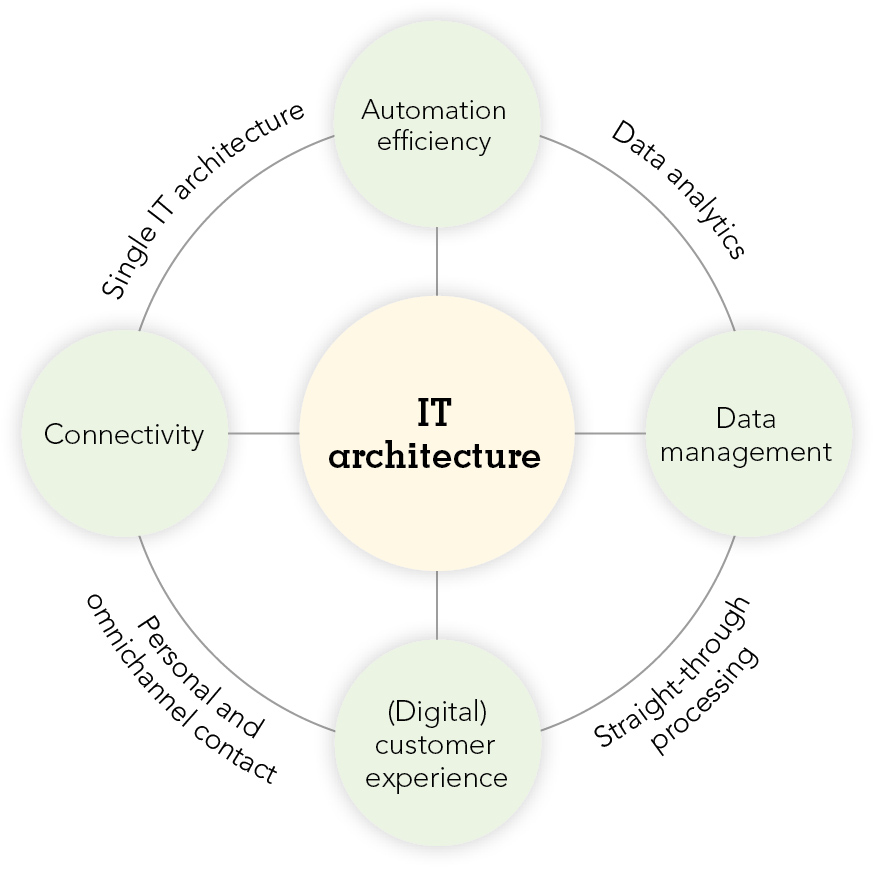 One of the key themes is data management, both for the improvement of service commission to customers and for sound (financial) analyses a.s.r. is cautiously exploring with the use of Artificial Intelligence (AI), applying the Ethical Framework Data Applications of the Verbond van Verzekeraars.
Digital customer activation and continuous improvement of the digital user experience of the secured customer portals are an important aspect in improving a.s.r.'s customer service. In 2021, more than 150,000 customers created accounts for the personal environment of their P&C, life or disability insurance. The target for 2023 is to have 90% of customers digitally activated. Through increased use of these environments, a.s.r. learns a great deal about the user experience and on this basis, implements further improvements. The further development of customer portals is a key part of the digital strategy. The Ik denk vooruit platform which was launched in 2021, provides customers with an insight into their income for later and enables them to simply open investment accounts.
A single a.s.r. IT architecture supports the programme and provides for consistent and uniform service commission for customers and advisors. The creation of an omni-channel landscape and the set-up of modern data and web cloud architecture form the technical basis for the Digital Agenda.
The IT infrastructure is also being upgraded further for the realisation of the digital strategy. The cloud is increasingly the platform for front office applications and for supporting the demanding calculation processes for financial analyses and reporting.
On the business side, the programme focuses on saving costs for both a.s.r. and advisors. a.s.r. also aims to reduce its ecological footprint by limiting the use of paper, a target has been set to reduce paper use (pages printed) with 90% in 2023 compared to 2020 (24,337,203 pages printed). In 2021 a.s.r. achieved a 23% reduction.
IT risks & cyber security
a.s.r. sets high demands for demonstrable control of IT risks. In 2021, close attention was devoted to third party risk at suppliers. a.s.r. received an ISAE 3000 type II statement for the service commission of the central IT department to the various business lines for the first time in 2020 and continued this in 2021.
Increasing resilience to cybercrime remains an important point of attention. a.s.r. actively participates in i-CERT, a joint insurers' initiative for timely identification of threats. In order to test whether the measures are adequate, a.s.r. regularly conducts ethical hacking tests. The lessons from these are addressed with top priority in a continuous security improvement programme. However, technology does not solve everything. a.s.r. regularly draws the attention of employees to cyber risks, with phishing and social engineering campaigns, in order to ensure that employees are continually aware of the risks and to refer them to agreements on safe behaviour. The subject of cyber security is permanently on the EB agenda. There have been no significant cyber security incidents in 2021.