a.s.r. foundation encourages a.s.r. employees to devote themselves to social causes alongside their work, whether individually, in teams or at home. a.s.r. makes available working time and financial resources for this purpose each year.
a.s.r. foundation focuses its activities on:
Financial self-reliance: language development and teaching to promote the financial education of children and young people, and supporting households at risk of or in debt.

Helping by doing: by inspiring, motivating and mobilising a.s.r. employees to engage in community activities in a broad sense.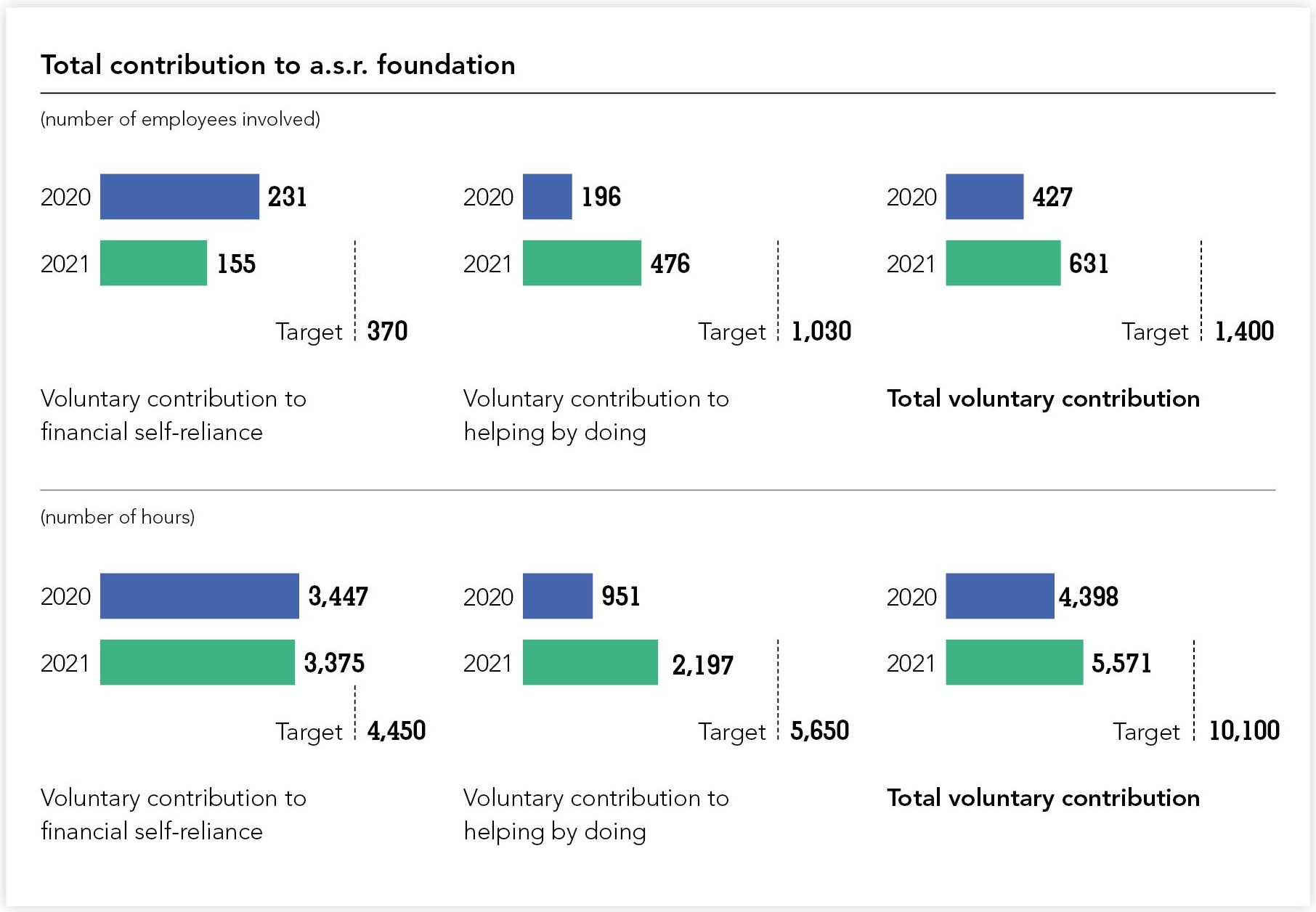 Financial self-reliance
At least 40% of Dutch people struggle with their financial administration. A disorderly administration increases the risk of getting into debt. This is why a.s.r. foundation supports households with (a risk of) problematic debts.
As many as half of the people with financial problems are designated with low literacy. If a child grows up in a language-rich environment, there is less chance of their developing low literacy. a.s.r. foundation is therefore keen to contribute to language development of children. People who do not learn how to manage money during their childhood are twice as likely to run into payment arrears and three times as likely to have payment problems as adults. a.s.r. foundation therefore considers financial education for children and young people to be important and helps parents with the financial education of their children.
Activities
a.s.r. foundation
(in numbers)
38
2020: 12
Activities
a.s.r. foundation
(in numbers)
38
2020: 12
Helping by doing
There are many vulnerable groups in the Netherlands who could use a helping hand. The social organisations that work on their behalf often depend on volunteers to be able to do something extra. a.s.r. foundation encourages colleagues to volunteer for such activities. Employees can engage in social activities either individually or as part of a team. 2021 knew multiple lockdowns but despite the COVID-19 measures a.s.r. foundation organised 38 activities (2020: 12). Colleagues who volunteer privately to work on behalf of a social organisation can be given help by a.s.r. foundation in the form of an incentive plan, 18 incentives plans were filed and 43 employees were involved.
Developments
Due to the COVID-19 measures, the voluntary commitment of employees has been under great pressure. a.s.r. put the safety and health of its employees and the people who need help first. Many of the planned activities at schools and social organisations could not take place. a.s.r. did, however, help speed up the conversion of training courses and workshops to digital programmes.
The support in getting the financial administration in order has also continued as much as possible, especially through digital contact moments and a newly established digital training week on debt management during and after COVID-19. Despite all the digital adjustments a.s.r. foundation did not succeed in matching the hours of 2019. The COVID-19 measures are still active in the beginning of 2022 and as such the target for 2022 has been lowered to 8,750 hours of voluntary employee contribution to local society.
One of the three themes in which a.s.r. has the greatest social impact is increasing people's financial self-reliance. a.s.r. believes it is important for everyone to be able to make conscious financial choices and assess their financial risks. a.s.r. foundation therefore devotes a great deal of attention to developing and encouraging people's financial self-reliance.
One of the initiatives is the partnership with FC Utrecht Maatschappelijk, which aims to improve the financial awareness of inhabitants of the province of Utrecht. In 2021, a.s.r. helped prepare FC Utrecht youth players to be financially self-reliant through workshops. The club's football players played a money quartet at primary schools with pupils. One of the players recorded a vlog with teacher-YouTuber Marijke in which they played the game Truth or Dare, with all kinds of questions about finances. During Money Week, children from group 5 to 8 in primary education could talk to their teacher about how to handle money after watching the vlog. FC Utrecht and a.s.r. are happy with the cooperation. It has therefore been extended by two years in 2021.